Our unique Journey through the 222 project is targeted to enhance children's, parents' and schools' abilities to produce and live at maximum capacity.
This program's special name is highlighting the development process of children from 2 years up to 22 years involving the children themselves in 7 age categories, their parents and teachers in 4 major categories.
Our True Schools intervention enables us to be a part of the SCHOOL team bonding between parents, students and schools. (True Parent, True student & True school). We work in integration between the three pillars; students, parents and schools to achieve optimum educational outcomes. We have a solid experience with many interventions and project components with diverse clients.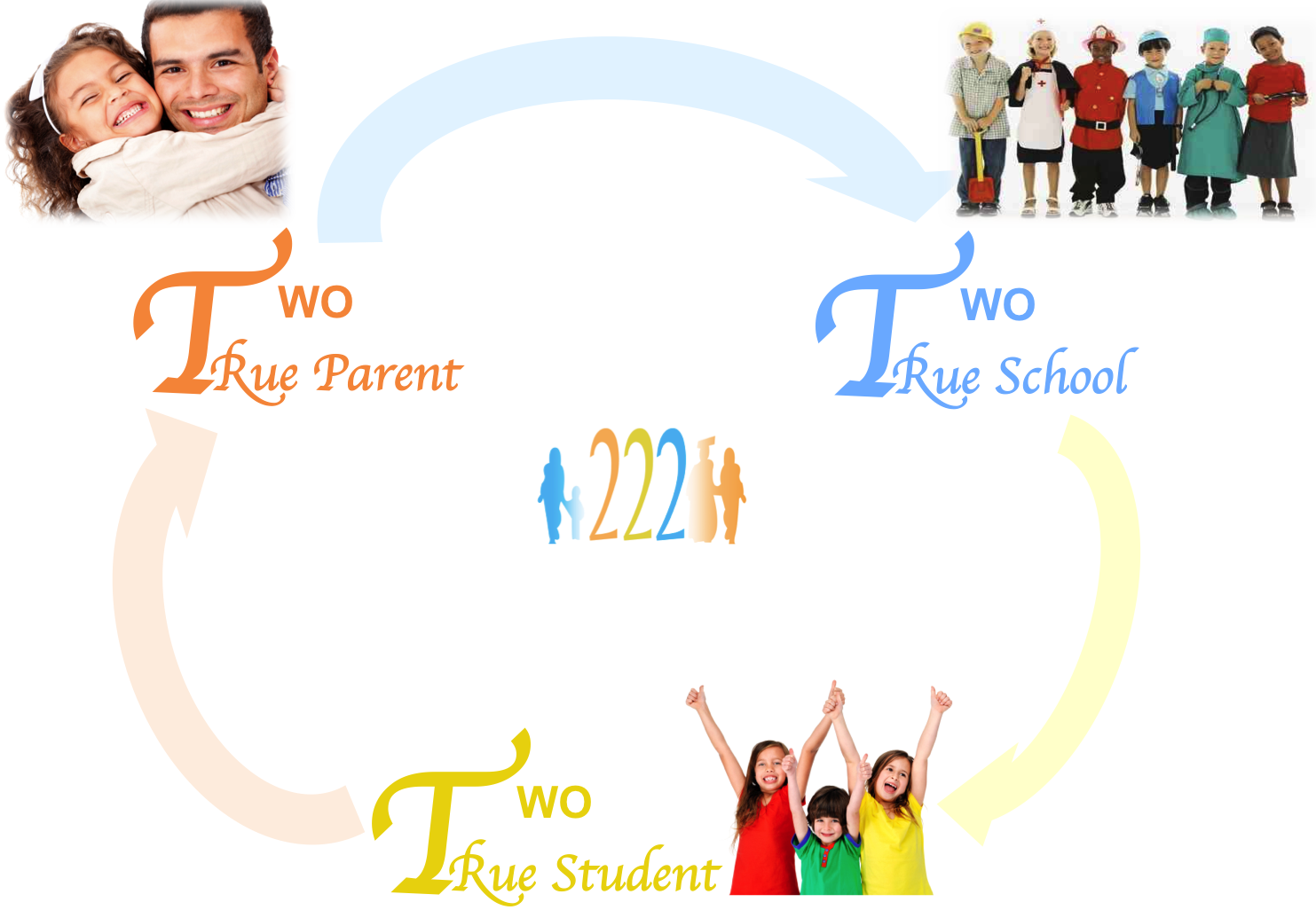 True Parent
True Parent will enable you to see parenting in a new way; it fills the mysterious gap of fully understanding children's characters and personalities. It is obvious that we can't discipline, motivate, communicate, and build self-esteem with all children the same way without adopting the solid elaborate method of understanding personalities' theory.
Program outcome:
Understand yourself and your role as a parent.

Understand your spouse deeply as well as your children's personalities and how to deal with each using psychological based theories.

Find explanations to their behaviors and thoughts

Learn how to discipline, motivate, communicate, build self-esteem for each




personality.

Building an "Exemplary Family"
Parents joining our program will enjoy our membership privileges including group follow up sessions to ensure the deployment of acquired strategies and a life long relationship with our educationalist team.
True Student
True student is divided into 7 cohorts according to the (children & youths ages). We believe that every stage in children and youths life has its own gifts unwrapped when we fully nourish all their needs
At the last cohort, a certification from Florida International University compliments the end of the program. (It's important to mention that Florida international university is considered one of Florida's primary graduate research universities, and awards over 3,000 graduate and professional degrees annually. It is ranked among the best business schools including universities such as Harvard and Stanford.
We focus on three basic parts in the project's theme in order to lead a healthy, well-balanced life:
Child's responsibility to "Oneself"
Child's responsibility to "Others"
Child's responsibility to the "Community"
True Career
We offer also True career program to students, it is focused on helping students, fresh graduates learn how to make career-related decisions creating a plan of action. This plan is based on their unique strengths, skills and values using informal and formal tools.
True School
We work on a holistic approach to build a school system, which ensures creating and sustaining excellence in school performance. Our main aim is to achieve the overall SIP "School Improvement Plan" in stand-alone components for easy implementation upon the availability of resources. We achieve our strategy through addressing the components of the Performance Excellence of the Sterling Foundation . The Sterling Criteria , based on the National Malcolm Baldridge Criteria for Performance Excellence, provide a framework and an assessment tool for understanding organizational strengths and opportunities for improvement in our management system. The Sterling Criteria includes seven categories which constitutes our Business Model:
School Leadership

Strategic Planning

Customer & Market Focus

Measurement, Analysis, and Knowledge Management

Human Resource Focus

Process Management

School Results
True Teaching
We offer also True Teaching Program for teachers, This Program certifies participants to effectively apply new approaches & tools to achieve higher excellence in their professional practice & way of thinking.
The outcomes of this program for:
Individuals: Is to practice self awareness, define the right philosophy of teaching, teaching style,….etc. Also includes global assessments to better know themselves personally & professionally.
Teams:  Is to build effective relationships with students, parents, and colleagues to get the best results.
Schools: Is to actively prepare all faculty to lead effective changes matching global standards.