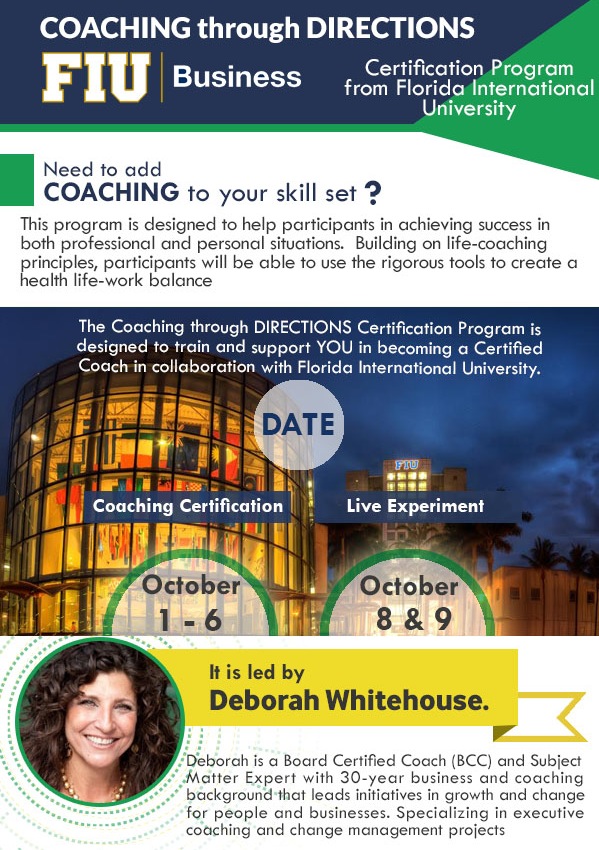 Coaching through Directions
This program is designed to help participants in achieving success in both professional and personal situations. Building on life-coaching principles, participants will be able to use the rigorous tools to create a healthy life-work balance.
The Coaching through DIRECTIONS Certification Program is designed to train and support YOU in becoming Certified Coach through the Florida International University.
In this certificate you will experience:.
The Coaching through DIRECTIONS techniques: Direct communication agility, Intuition through Mindfulness, Results-oriented mindset, Empathy through Positivity, Caring enough to push for action, Technically competent, Innovative in practice, Observant listener, Natural and Authentic, Self-Aware … make it Safe and create Sustainable outcomes
Over 16 hours dedicated to practicum or practice coaching sessions with peer coaches.
Being versed and practiced in the 11 Core Competencies of Coaching within the International Coaches Federation (ICF) purveyance, including: Building the relationship; communicating effectively; Facilitating Results.
Learning the process of delivering a productive coaching session.
Understanding and using assessments and special tools that can be used immediately.
Being versed and practiced in the principles of human development and life periods of change.
Understanding of psychology and neuroscience principles as they apply to coaching in the "What does Science Say" content of the Program.
Practicing daily techniques and tools used in the coaching conversation model in the "Making it Real" content of the Program.
It is led by Deborah Whitehouse.
About Deborah Whitehouse:
Deborah is a Board Certified Coach (BCC) and Subject Matter Expert who leads intiatives in growth and change for people and businesses. Specializing in executive coaching and change management projects
Deborah has a 30 year business and coaching background working for recognized, global organizations. In this experience-rich environment, she grew from CEO of a her start-up engineering firm, to Governor appointee and Director of Building Construction for the State of Florida, to a top level executive for a Fortune 500 Most Admired company.
According to the ROI studies 90% of her clients in transition find the right work, while 95% of others meet goals & sustain a desired behavior change.
What People Say about Deborah?
Deborah's coaching helped me to break a lifetime habit that wasn't working for me in my life today. She taught me to recognize my 'triggers' and to substitute positive behaviors rather than relying on past tendencies. Her patient guidance and non-judgmental reinforcements helped me stay on track and learn how to change my habits. Today, I'm thinner, healthier, and feel much better about myself. I consider Deborah as my lifetime coach and mentor. 'Mary S. Houston, TX
Deborah has been a great coach and mentor to me. She has strong industry experience and a career that has navigated through many challenges. She is pro-active, insightful and passionate about what she does and I really enjoyed working with her. Nandita Kaundinya, PE, Project Manager at Jacobs
Deborah is one of the most engaging, ethical & trustworthy people I have met in some time. Her professional background is impressive for its diversity and depth and her clients benefit greatly from it. She is perceptive, caring and consistently focused on helping you achieve your best path to success. Esther Feinerman. 'REAL ESTATE PERFECTED' ~ Personalized, Professional & Prompt!
Certificate Requirements:
Pre- & Post-assessment.
Post-Certificate Action Planning.
Post-Certificate Action Feedback.
Group discussion and practices.
Graduation Project.
Special Rate for early registration  . Ask for our Installment Plan for your investment fees.
Hurry! Seats are Limited.
Sponsored by: Innovative group USA
Book Now